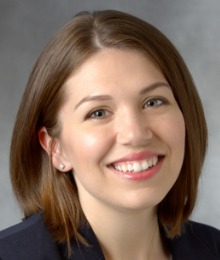 Lindsey
Bustamante,
L.C.S.W.
Licensed Clinical Social Worker
Languages: English and Spanish
Direct: (470) 991-1619
Cumming Office
"We cannot control the wind; we can only adjust the sails." – Kahlil Gibran
At some point in life, everyone experiences suffering. It is an unfortunate truth. How we respond to this suffering can have a tremendous impact on the degree to which we suffer. Counseling is a process of learning how to cope with the challenges of life, and hopefully, solving some of the problems that contribute to our suffering. I imagine if you are reading this now, it may be because you are in a place of emotional distress.
I am Lindsey Bustamante, a Licensed Clinical Social Worker, specializing in treating various mental health/substance abuse disorders and relationship problems among families and couples. Adults and adolescents are the age groups I primarily work with. As your therapist, my goal is to develop a meaningful and genuine helping relationship with you while providing a comfortable environment for which to share your thoughts and feelings. I will not pretend to be an expert on you; instead, I will help you discover your strengths and learn skills that help you solve or cope with problems and improve relationships with others. I employ a variety of theoretical and technical approaches to fit your individual needs including Dialectical Behavioral Therapy, Eye Movement Desensitization Reprocessing, Acceptance and Commitment Therapy, and Cognitive Behavioral Therapy.
I received my Bachelors in Social Work and Masters in Social Work from the University of Georgia. As a social worker, a value I strongly uphold is that of respecting the dignity and worth of every person, and respecting the qualities and characteristics that make us individuals. We as human beings are amazingly complex and unique and deserve to be treated as such. I am comfortable working with people from a wide variety of backgrounds and cultures.
Finding the right therapist to help you with your particular problems can feel like a daunting task. It takes courage and energy to ask for help. While at this point in your particular journey you may feel overwhelmed, afraid, or angry; I encourage you to not give up hope. I invite you to face your challenges head on with me, and I will provide support, coping skills, and a safe, non-judgmental environment in which to grow and achieve your goals.